Aileen and Dean's Wedding
We were back up on the beautiful north Donegal coast yesterday evening at Aileen and Dean's wedding – thanks to both of them for inviting us along.  We were playing in the Ballyliffin Lodge, which is one of Donegal's top wedding venues.  The room was pretty much filled to capacity, but Ricardo and the rest of the staff had it looking great as usual.
We ran into our good friend Francy from Byrne Video Productions – one of the best videomen and roadies in the business!  He always helps us in with our equipment, so we've made him an honorary Juice roadie! lol  Apart from his tremendous roadie skills, he's also makes brilliant wedding DVDs!  We always highly recommend him, and he should on your shortlist if you're thinking of someone to video your big day.  Check out his website at www.byrnevideoproductions.com for more info.  As you can see below, Francy was very sympathetic when we told him we wouldn't be home until around 4:30 in the morning! lol
Aileen was full of the craic when we arrived, and thankfully so were a lot of her guests!  It took us a few songs to get them sussed, but after that the floor was buzzing all night.  We even had one Aileen's friends (Sheena) put on a spectacular (ahem!) show of Irish dancing – she may not have got full marks for technique, but definitely ten out of ten for craic! lol  We had a great and unique song to finish the night – at Dean's request, we ended with AC/DC's Highway to Hell – which went down a storm!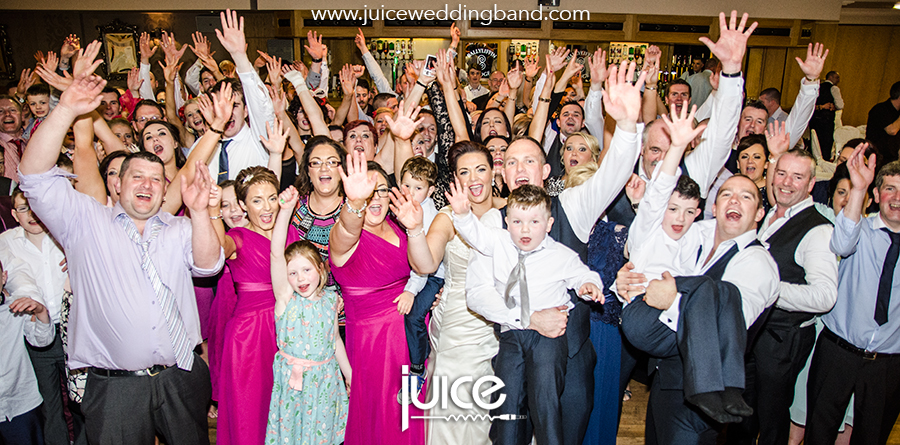 Thanks again to Aileen and Dean for booking us for their wedding – it was great to be there.  Cancun in Mexico (below) is proving a very popular honeymoon destination, and is supposed to be a lovely place to go.  This is obviously why Aileen and Dean have chose it for their honeymoon – have a great time guys!
Planning a Wedding?
We're one of the busiest wedding bands in Northern Ireland, and hope to stay that way!  So if you want to find out if we're the wedding band to suit your big day, then check the wedding section of our website for more information.  If you already have a date confirmed, then feel free to contact us to confirm availability and check prices.