Andrea and Matthew's Wedding
We were in the beautiful Redcastle Hotel, Donegal last night – thanks to Andrea and Matthew for inviting us along.  Redcastle is just a really lovely area, and the view from the function room in the hotel is just stunning – just an unspoilt view of Lough Foyle!
Our good friend Declan from Highlights Video Productions was looking after the video duties yesterday, and doing the usual great job!  Always full of the craic, he's one of the top video guys on the local wedding scene, and highly recommended if you're looking for someone to video your wedding.  Check out his website www.highlightsvideoproductions.com for more info.  It took half an hour so for things to get going last night, but after that things just kept getting better and better.  By the end of the night everybody was going mad, and Matthew even joined us on stage during 'Hit the Diff'!! (that's him on the header photo).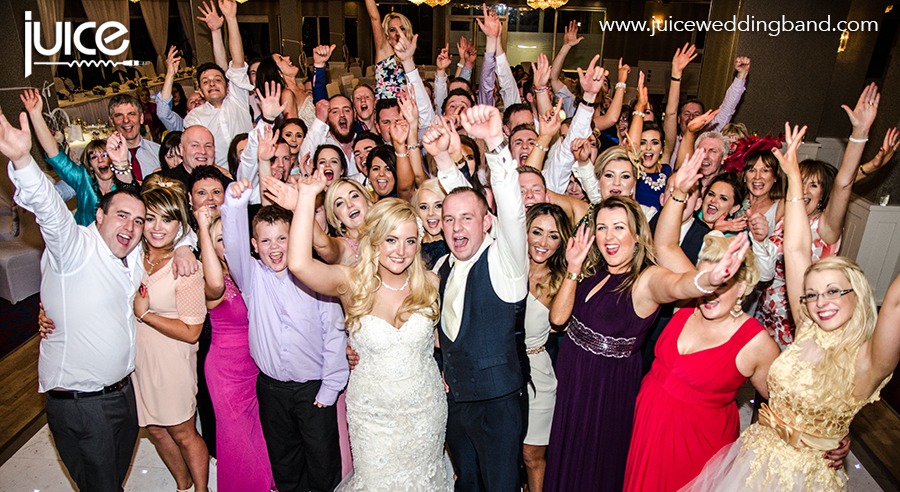 Thanks again to Andrea and Matthew for booking us for their wedding – great to be there!  We'd like to wish them well on their travels too, as they've a great honeymoon planned – a few nights in Vegas, then off to Mexico to finish things off.  Sounds amazing, have a great time guys!
Planning a Wedding?
We're one of the busiest wedding bands in Northern Ireland, and hope to stay that way!  So if you want to find out if we're the wedding band to suit your big day, then check the wedding section of our website for more information.  If you already have a date confirmed, then feel free to contact us to confirm availability and check prices.