Vikki and Sean's Wedding
We had our last wedding of the month in the beautiful Lough Erne Resort, Enniskillen – thanks to Vikki and Sean for inviting us to join them on their big day.  The staff had everything running bang on time, and the room was looking great as usual!
We had a bit of a mishap before we started, as one of our laptops let us down, and (as luck would have it!) our other one had been getting fixed earlier in the week, and wasn't in the van! :0(  However, we had backup players to keep us going, and had our other backup computer delivered an hour after we started.  Everything went OK, but it was a tense hour before our replacement laptop arrived! lol  Sean's Nephew Joseph had asked to play his accordion for everyone, so he gave us the chance to change everything over while he was playing (he did a great job on the accordion too!).  We actually have two new Apple Macbooks ordered, and they can't come soon enough! lol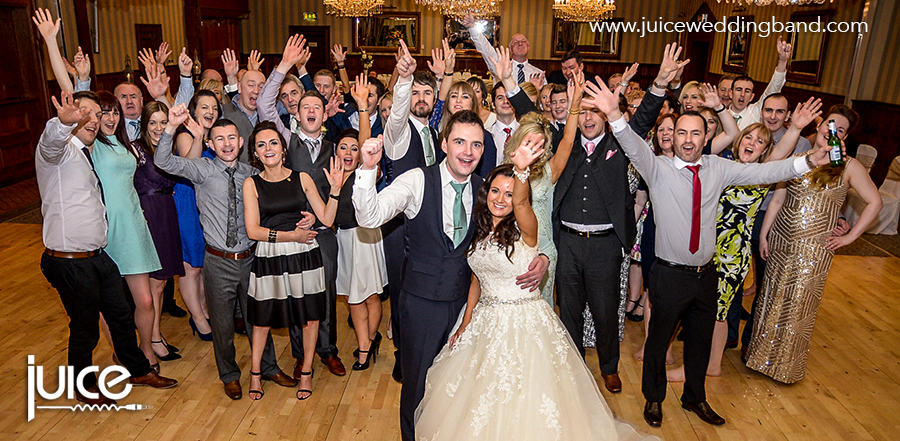 We had a great crowd in with us on Saturday, and were able to play a great range of music to suit everyone, as they were dancing to everything.  Vikki and her Dad both love a bit of rock music, so we were able to rock things up for them as well :0)  Thanks again to Vikki and Sean for booking us for their wedding – it was great to be part of their big day!  They've a great honeymoon planned, as they're going to Vegas and Mexico – have a great time guys!
Planning a Wedding?
We're one of the busiest wedding bands in Northern Ireland, and hope to stay that way!  So if you want to find out if we're the wedding band to suit your big day, then check the wedding section of our website for more information.  If you already have a date confirmed, then feel free to contact us to confirm availability and check prices.