Mollie and Walter's Wedding
After three weeks off, we had our first wedding last night in the Slieve Donard Hotel, Newcastle – thanks to Mollie and Walter for inviting us along.  Mohammed was our duty manager, and he had everything running smoothly as usual.  The function room was looking great, and we didn't have to wait too long before we could get in to setup.
Once we started it felt like we'd been off for a year, as there was the odd mistake here and there! lol  However, we had a great crowd to keep us on our toes, and that helped us get back into the swing of things.  Once the food settled we had loads of dancers, which was especially great considering it was a Monday night!  Once it was time to serve the buffet, we handed things over to DJ Ricky, who was full of the craic and probably kept them dancing right through until the bar closed!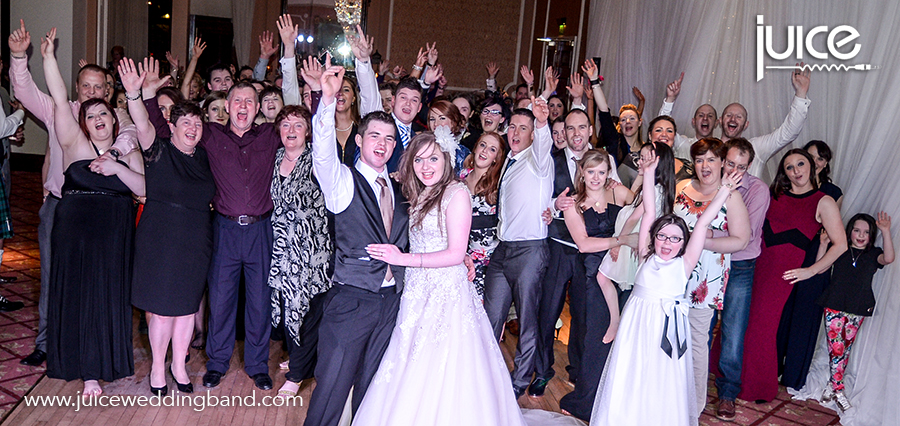 Thanks again to Mollie and Walter for booking us for their wedding – it was great to be part of their big day.  They're going to Dublin for a few days, as poor Mollie has to go back to work next week :0(  Anyway, there's always plenty to do in Dublin, so we're sure they'll have a great time, and they'll maybe get a chance for a longer break at a later stage.
Planning a Wedding?
We're one of the busiest wedding bands in Northern Ireland, and hope to stay that way!  So if you want to find out if we're the wedding band to suit your big day, then check the wedding section of our website for more information.  If you already have a date confirmed, then feel free to contact us to confirm availability and check prices.